There is no such thing as "the" blues. The raw, low down delta blues played by the wandering blues artist driving the crowd wild during the week ends in the juke joints was not even in fact the most popular one. The name of Leroy Carr may today sound unfamiliar, but he can be seen as a key figure in the pre war blues period, though he was complete the opposite of men as Charley Patton or Robert Johnson. But he was very popular in his time. His biography and social background are quite different from the classic delta blues artist, yet he is 'must' when one wants to have a complete picture of the early blues.
For a starter, Leroy Carr was – even if he left school as a teenager when he was about 15 – relatively educated compared to his blues compatriots. He was raised in an urban environment (born in Nashville, Tennessee) and as a teenager he learned himself to play the piano. He was dressed in nice, decent suits when – next to his manual labour work – he started playing in a.o. nightclubs. When his accompanying singer left him to try a career in sports, he started singing himself when playing the piano.
He soon became very popular. This was at the time that in the Northern cities vaudeville & female blues singers made the headlines.
Leroy Carr's style was very smooth and soft, and this is what made him very popular. He had a great influence on later singers as Nat King Cole and Ray Charles. This a-typical blues style is probably also the reason why he was put aside later during the blues revival as his image did not correspond to the classical, cliche type blues singer of the South.
His career was very short. He went North to be recorded, and in 1928 his first record : "How long, How long blues", became an immediate smash hit, giving him enough royalties to sustain his family, and also…to buy liquor.
It is said that he met his music companion Scrapper Blackwell in the bootleg circuit.
Anyhow, when he died in 1935 he had made a short and intense career together mainly with Scrapper Blackwell, playing in Chicago. They complemented each other perfectly : Leroy Carr playing a smooth piano style and crooning the blues, next to Scrapper Blackwell who was a magnificent guitarist playing in a melodic, jazzy style.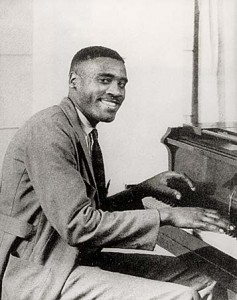 After a few years however, Scrapper felt that he was living in the shadow of Leroy, and they split in unfriendly terms.
By then, liquor had became a more steady and reliable friend than Scrapper, and in 1935 kidney failure as a result of acute alcoholism ended a brilliant musical career much too soon.
Leroy Carr left behind an impressive repertoire and is to be seen as an exponent of the evolution of the country blues to the city blues, an evolution that would become more and more visible towards the end of the thirties, and especially after WW II when Chicago and the electrified blues pushed the country blues to the background.
His mark on the music still lives. T-Bone Walker, Charles Brown, Amos Milburn and Count Basie owe him alot.
____________________________
Note : This article has also been published in the September issue (2011) of BluesJunctionProductions.com :
www.bluesjunctionproductions.com/crooning_blues