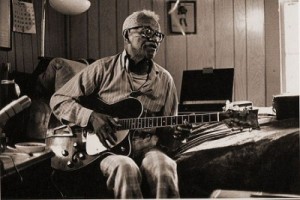 On two occasions he was the opening act, in his home town Memphis and for an audience of more than 50.000 fans, for the Rolling Stones, and yet he remained a street sweeper until he retired. Moreover, one of the streets he swept was the cultural Mecca of blues where artists came to be inspired and to inspire : Beale Street. It was also the street where B.B. King became what he is now and where there was a fermentation of blues talent never seen afterwards.
His name was Walter 'Furry' Lewis. 'Furry' was a nickname given to the man by the boys he attended school with until the 5th grade. I haven't found anywhere why they called him 'Furry', but one can make an educated guess on the reason: from what I have read so far about this man, is that he was a very empathic man who mastered the art of entertainment and capturing the attention of his audience. He must have been a gentle man, unlike Skip James, the blues poet, who considered himself to be far above his music colleagues and audience.
Walter Lewis was born in 1893 in Mississippi, but lived the most part of his live in Memphis where he deployed his musical talent. Like many (if not most) others, he made his own guitar at very young age (six, from I have read) from a simple cigar box and some strings. When he moved to Memphis as a teenager he started to perform on the streets and show his talent at picnics and dances. He also joined medicine shows, that itinerant group of what we would now call charlatans who tried to sell all kind of stuff that was supposed to cure you from whatever disorder you might have. But this show was also entertainment, and Walter Lewis played music and acted as a comedian. This would serve him very well later on when during the blues revival in the sixties he performed on colleges and festivals where he really succeeded in pleasing his audience.
He played mostly by himself, only occasionally accompanying other musicians. His particular interplay between voice and guitar made it very difficult to be part of a larger band. At one moment however he has impressed W.C. Handy who offered him his first real guitar ! He played in Handy's orchestra for some time.
At the age of 17 the accident struck him. Though he had enough green backs to pay for the trip (he earned some money with his street and other public performances), he wanted to take the train as stowaway, but got stuck with his foot when he made the jump. He lost a leg.
This however didn't ruin his mood, nor his career. Het took a job at the Memphis public server as street sweeper and pursued his musical performances in the twenties. This was the period that blues was a hype in the northern states following Mamie Smith's Crazy Blues hit of 1920. Literally hundreds of song writers tried to pick a corn from this hype and blues was as part of vaudeville acts which were very popular on Broadway. When some smart industry boys noticed that there was a market for black music, their interest started to grow. Blacks who had migrated to the North bought this blues, and the connection to their homeland in the South was quite obvious, so these marketing boys turned their attention to the South on the outlook for talent coming from the country side. Even furniture industry showed interested and tried to make profit of this new market by putting in place divisions that aimed at recording the musical talent of the South. Victrola's were hot and you needed to sell records at the same time.
It is in this time frame that Walter Lewis went to Chicago and auditioned for recordings. With success ! When he first recorded in 1927 he had already musical experience behind him of more than a decade, and he seemed to have a very natural feeling with the microphone in the studio, just as he had with this life audience on the streets.
23 songs were recorded in the period 1927-1929.
However, the Great Depression struck and from 1930 he relied only on his job at the Memphis public service to get the butter on his bread. Only friends could still enjoy his musical talent.
The great Samual Charters managed to track him down already in 1959 nearby Beale Street. Walter Lewis was one of the first elements of the motor of the blues revival in the sixties. He was 66 years old when he started his second musical career ! In 1961 he already recorded two LP's (reissued later on 1 CD in 1991). However, all this and his many successful performances at colleges and festivals did not allow him to give up his job as street sweeper. Not even when the Rolling Stones had him as an intro-act on two of their shows in Memphis !
Until his death in 1981, Walter 'Furry' Lewis remained musically active and innovative. His music was recorded even next to its bed side.
He died of pneumonia and heart failure.
Walter Lewis can be regarded as the personification of the relaxed and intimate early blues. Unlike the raw, unpolished Son House, Walter Lewis' music is very much relaxed. It is a unique combination of spontaneity, subtlety and personal emotion. It is the emotional purity of blues. Pigeonhole it as pure blues wouldn't however do justice to his larger style which combined blues with Memphis roots and ragtime.
His name is very often forgotten, but his legacy is not (Bob Dylan and Joni Mitchell paid tribute to him, though he was not very happy with the way Joni Mitchell did it). He is a classic icon of the early blues !